Joined

Mar 27, 2016
Messages

2,672
Points

108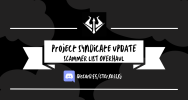 ​
Hello there, did you ever got scammed by another player? Well, we have a solution for you now!
First off, we would like to introduce ourselves. We are the Project Syndicate. An OP Prison community gang of PikaNetwork. Our goal is to help the community, make giveaways, and more helpful information that we can provide for the people.
Since PikaNetwork does not give punishment for scamming players in PvP Servers, we have a Discord Bot system that detects player's status if they are a scammer or not so you could prevent getting scammed anymore!
We at Project Syndicate want to make sure that the community of PikaNetwork is safe at all cost when making a transaction hence, this system has been made on our Discord Server. We have contacted
@MrEpiko
to help us set a customized bot that detects the scammer's username.
Now, you may be wondering how does it work?
• The system is similar to PikaNetwork's reporting system where you need to show valid video/image evidence that are not cropped, falsified. Once it has been reported, we will thoroughly investigate the report you issued.
• If the report is deemed accepted, they will be put into a database of scammers and you may have a chance of getting back your items/tokens/money from us if possible.
• If your report does not get any response within 7 days, it is denied due to insufficient evidence or so.
If you a scammer listed on our database, you may appeal for your innocence on our discord server as well with a valid reason. You will be cleared from being a scammer in our database.
If you are interested, you may join our discord server
HERE
for more information. That is all from us, have a wonderful day/night!