Joined

Oct 9, 2019
Messages

3,841
Points

103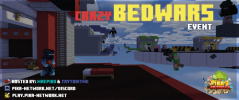 ~~~~~~~~~~~~~~~~~~~~~~~~~~~~~~~~~~~~~~~~~~~~~~~~~~~~~~~~~~~~~~~~~~
Hello everyone,
Upcoming Saturday we will be hosting a CrAzY BedWars event here on PikaNetwork!
17th of September, at 3 pm GMT
Hosted by
MrEpiko
&
TryToHitMe
CrAzY BedWars is basically a normal Brackets Solo BedWars event with a twist - all items in the shop are free! As the community decided, players will be able to purchase anything from the shop for free, and by anything, we literally mean anything: bows, ender pearls, armor, team upgrades, blocks, iron golems, etc.

In order to participate in this event, you will have to register. You can do so by sending a DM with your in-game username to either TryToHitMe#2010 or MrEpiko#0001 on Discord. The maximum amount of players we will support is 112.

All participants will be granted the Event Participant role on our Discord server as well as their place in the #event-participants channel. We will use that channel to announce brackets, private game hosts, as well as the current event status. If you still haven't, make sure to join our Discord by clicking here.


Registrations will be closed a day before the event starts.
~~~~~~~~~~~~~~~~~~~~~~~~~~~~~~~~~~~~~~~~~~~~~~~~~~~~~~~~~~~~~~~~~~
How will the event go?

‣ When the event starts, you will be invited to a party by a staff member who's responsible for your match
‣ If you don't join the staff member's party within a minute, you will be disqualified and the game will start without you
‣ The last player standing wins and moves onto the next round


Other information

‣ Spectators will be allowed only in the final matches. You can spectate using the /spec command available to Titan+
‣ Any kind of event disturbing/abusing will result in a temporary punishment
‣ Teaming is not allowed and will result in a disqualification


The top 3 players will receive the following rewards:

30€ PikaNetwork store giftcard

20€ PikaNetwork store giftcard

10€ PikaNetwork store giftcard
Keep in mind that all global PikaNetwork rules apply. We advise you to play on the 1.8 version of Minecraft for the best experience.

NOTE: The winners of the event will be screen shared to prove they have played legit.
~~~~~~~~~~~~~~~~~~~~~~~~~~~~~~~~~~~~~~~~~~~~~~~~~~~~~~~~~~~~~~~~~~
Banner:
Klausly
Private game hosts:
Klausly
DarkVenom7 TryToHitMe Alparo_
caila5
​
Last edited: